Is the Quantum Hellcat 30 Your Next Spinning Reel?
Quality fishing reels are something I love to have but I hate paying too much for them. To that end, I'm really liking the Quantum Fishing Hellcat 30 spinning reel.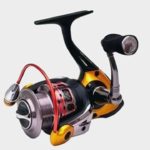 If you haven't checked them out, they are as sexy as you get for a reasonably priced spinning reel and they have enough bearings to make them smooth to work with.  I'll be honest with you.  I grew up in the woods of North Idaho and I don't know how many bearings those reels we used had, but hey absolutely grated when you would reel them and the drags were dismal.  Hooking into a big fish was a nightmare with those things.  I likely would have killed for something this sweet back then.
The big features for me on this reel are first the price point. MSRP is $80
Next is the continuous stop. Those old reels has one stop, so you better hope that it was against it if you went to set the hook. A continuous stop prevents any line from playing out when you put tension on the line. It may not seem like a big deal, but when a trophy is on the line it definitely is!
Third is LOTS of bearings. The Quantum Hellcat line has 11 Bearings (10+clutch) so you know it will run smooth.
Quantum Hellcat 30 Spinning Reel Specs
Here are some of the general specs for this reel that I pulled off the Quantum website for the Quantum Hellcat series of spinning reels:
11 Bearings (10+clutch)
Lightweight aluminum body and side plate
Continuous Anti-Reverse™
5.2:1 Gear ratio
Lightweight graphite rotor
Long Stroke™ spool design
LMS™ line management system
Heavy-duty anodized aluminum bail wire
Soft-touch EVA handle knob
The Quantum Hellcat 30 spinning reels actually come in three sizes. I think they are all pretty reasonably sized, not too big but not so small that if you have a fish run you have to sweat it spooling you.
Quantum Hellcat Spinning Reels

| | | | | |
| --- | --- | --- | --- | --- |
| Model | Gear Ratio | Line Capacity | Bearings | Weight. |
| HC20F | 5.2:1 | 140 yds. / 6 lb. | 10+1 | 10.0 oz. |
| HC30F | 5.2:1 | 190 yds. / 8 lb. | 10+1 | 11.1 oz. |
| HC40F | 5.2:1 | 170 yds. / 10 lb. | 10+1 | 11.8 oz. |
Hellcat Spinning Reel Reviews
There isn't a great deal of feedback in on this reel yet, but so far their is only praise for the Quantum Hellcat spinning reel.  Here are a few that I've found that seemed useful.
"Great Reel. very smooth and i love it. I'm using 8 pound Spiderwire Braided Line. Spooled up Smooth . My new favorite reel."
"Great reel super smooth casting and retrieving great drag as well"
Final Analysis Of The Quantum Hellcat Spinning Reel
I have to go with it being a winner. At least until someone gives me some evidence to change that opinion.  If you are looking for a midrange spinning reel for yourself or as a gift, you aren't going to go wrong with giving them one of the Quantum Hellcat 30 spinning reels.